SLABlite is ideal for backlighting translucent and semi-translucent countertop lighting applications, including onyx, quartz, glass, etc., but your imagination is the only real limitation.
SLABlite produces even consistent lighting across the whole pane. Creative lighting effects can be achieved with SLABlite's 12″ x 12" x 3/8" thick LED panels. They're waterproof, generate almost no heat, last 20 years and can be easily be cut to almost any shape to accommodate curved edges and fixtures.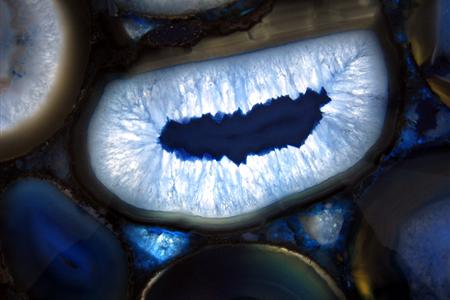 SLABlite is the only backlight that can be custom cut on the jobsite; an installer can cut and shape SLABlite to fit around the sink, overhangs and edges as well. There is no need for CAD drawings or templates, everything can be achieved at the jobsite.
The invention of the SLABlite revolutionized backlighting and backlit countertop lighting applications. In addition to the ability to evenly light virtually everything.
SLABlites are the only backlight that can be cut on the jobsite
No CAD drawings needed
No templates
No hot spots
No shadowing
100% waterproof
20 year rated lifetime- 200,000 hours
3 year manufacture warranty
Many clients love the idea of backlighting onyx and a backlit countertop in their homes and businesses. Before the invention of the SLABlite, evenly backlighting onyx or having a backlit onyx countertop was not possible.
The use of LED technology eliminated many of the problems and limitations associated with previously available methods of backlighting onyx and a backlit onyx countertop by providing an even lighting effect, eliminating "hot spots" of light. Providing no heat transfer between the backlighting and the backlit onyx countertop. Being totally waterproof so that backlighting can be a safe exotic lighting effect that can be used in pools, spas, fountains and other wet areas without danger of electrical shock.
SLABlites run on a 12 volt system and requires only 2 watts of power per square foot. Being incredibly low maintenance, SLABlite by having a single light source with a 20 year/200,000 hour life span is perfect for backlighting onyx and backlit onyx countertops.
Fore more information and resources regarding countertop backlighting, be sure to visit slablite.com!