The Top Home Backlighting Applications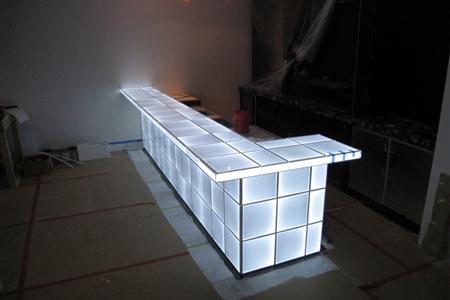 Considering revamping one of the rooms of your house? You may be considering everything from new furniture and decor to completely renovating. What many people don't consider, however, is changing up the lighting! Changing the lighting can drastically alter the energy and mood in a room. Creative backlighting applications are one of the best ways to do just that.
Backlighting applications from Slablite.can turn everything from bars and countertops to fireplaces and kitchen islands into unique and beautiful light "fixtures." Our backlighting patent is perfect for translucent and semi-translucent materials like glass, quartz, and onyx. Read on to discover some of our most popular backlighting applications!
Backlit Kitchen Islands
A kitchen island already works overtime adding some additional character to the space. With lighting by SLABlite, however, it can really pop. Many of our customers prefer quartzite for this particular application.
Backlit Vanities
A backlit vanity countertop can add a rather enchanting effect to your bathroom. The soft and soothing ambient light glowing through a material like quartzite or onyx can add a new dimension to a previously bland or mundane space.
Backlit Fireplaces
Everyone loves having a fireplace! You can make yours stand out even more by highlighting it with a distinctive backlit onyx frame, creating a stunning lighting effect in the room that augments your fireplace's existing charm.
Backlit Bars & Countertops
While a beautiful bar or countertop already provides high level of elegance and class, you can emphasize that beauty even further with LED slabs. This backlighting adds depth and dimension to the countertop material that you may otherwise miss.
To learn more about our LED backlighting applications or get a free estimate, call (877) 723-2900 or contact SLABlite online today!